Walt Mossberg

Walt's First Column, 1991
Walt Mossberg recommended MenuWorks in his very first WSJ column!
I don't recall if I knew about it at the time, or maybe it was simply that Walt wasn't yet a big name, but 20 years after the fact I came to learn that Mossberg wrote kindly about MenuWorks in his now-infamous inaugural personal computing column in the Wall Street Journal.
For those not familiar with Walt's esteemed reputation, suffice to say that prior to his recent retirement, he had become the most-influential product reviewer in the industry through his highly-revered column in the Wall Street Journal which riegned supreme for well over two decades. Thank you, Walt.
Wall Street Journal, Oct 1991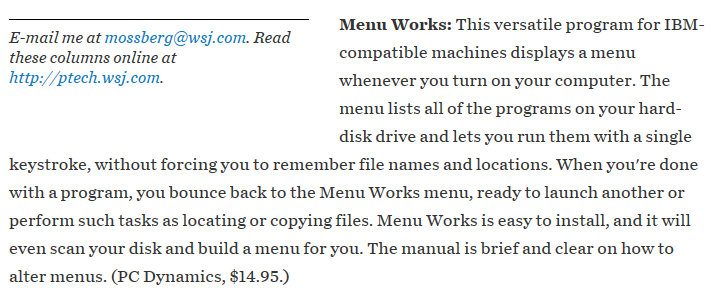 Walt's Last Column, 2017
And then a sweet epilog. Much to my surprise, when Walt wrote his final column prior to his retirement in 2017, MenuWorks surfaced once again when he included a clipping from his 1991 debut.
Recode, May 2017
This is my last weekly column for The Verge and Recode — the last weekly column I plan to write anywhere. I've been doing these almost every week since 1991...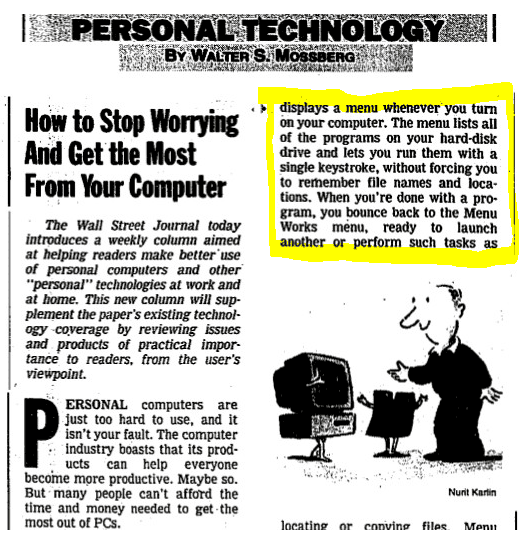 Thank you, again.